Kamanggagawa Foundation Inc. (KFI)
>
Newsroom
Newsroom
Kamanggagawa to give medical mission to Movie Writer Welfare Foundation

Kamanggagawa Foundation is mounting anew a medical mission to the members of the Movie Writers Welfare Foundation (MWFF) on Sept.26 this year.
The MWWF is a non-profit organization for the entertainment movie writers in the Philippines.
More details will be added soon.
---
[Photos:] Clinic Ni Kuya at UNTV Station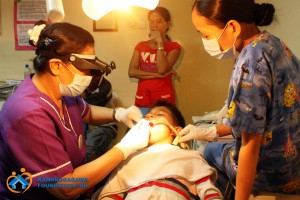 The UNTV building is not a hospital. But with the Clinic ni Kuya (Big Brother's Clinic), it might very well be. On weekdays, what welcomes the network's visitors are the long lines of patients, waiting for their turn to get a medical checkup, complete with medicine, for free. This is all, of course, thanks to God who made it all possible and to the people He uses like Kuya Daniel Razon and UNTV. And since it is genuine public service at its best, KFI is in full support of it.
---
La Verdad Christian College to Educate Poor But Deserving Students

The hard reality that students face now is that the cost of pursuing their dreams is difficult because tertiary education is expensive.
Incoming AB Broadcasting sophomore Mark Juneil Bucao recollects his thoughts when high school graduation came upon him. His dilemma is whether he can join the next graduation rites he hoped for himself to attend – the one that happens in college. "I remember being really worried because we don't have much money. I might not finish college," Bucao said.
Today, Bucao no longer worries about not graduating from college due to financial reasons. Because he, together with more than 400 students who share his plight, are scholars by the Kamanggagawa Foundation Inc.'s (KFI) La Verdad Christian College.
Not only does this college offer free education, it also offers free books, uniforms, and even free food to its students.  This one-of-a-kind university offers two competitive courses: four-year AB Broadcasting and  two-year Nursing Assistant course.
The free college is the fruit of one of the many public service projects launched by international evangelist and television host, Bro. Eliseo Soriano, together with veteran broadcast journalist Daniel Razon. Both, being ardent supporters of KFI, views that scholarship opportunities should be offered to all, without discrimination over race, religion or sex.
For Razon, scholarship grants should not only be given or endowed to the intelligent ones or those who already have the resources to comply with all the requirements of the educational system.  He said university scholarships shouldn't stop at letting students in the schools. The reality, he said, is that intelligence alone – the basis for acquiring the scholarship in the first place – cannot pay for projects, other educational necessities and even the basic food and transportation.
"Scholars have grade point averages to maintain. How can they maintain their grades if they can't submit projects because they don't have money? If they can't go to school because they can't pay for commuting costs? If they don't have food in their stomachs to make them function well? The reality is that there are those who want to study but cannot afford to do so, " Daniel Razon stated.
And so intelligence is not enough to get an education – and for Razon, it shouldn't be the only important factor to consider as well.  "Why don't we give the average students a chance as well? For as long as we can see the potential, willingness to learn,  sincerity and perseverance, we should support them."
The La Veradad College – a symbol of hope for poor but deserving students – is one of the flagship projects of the two philanthropists, Bro. Eli and Kuya Daniel. This public service endeavor showcases their vision of a solid education in its Pampanga school grounds – and in the near future, in its second branch located in Manila.
"This project gave me hope," Bucao says with a small smile. "I'm very fortunate to be part of this program.  As Bro. Eli once said, the youth can do more if they are well-educated."
---
Kuya Daniel Record's Platinum for Humanitarian Projects

Popularly known as a public servant even without any political position, Daniel Razon scored another feat recently that will support his many humanitarian projects, such as those of Kamanggagawa Foundation.
The UNTV executive and veteran broadcaster is an occasional singer, yet able to chalk up a Platinum Record Award for his album, Isang Araw Lang. His album sales exceeded 20,000 copies just after three months when he received his Golden Record Award with the same album upon release.
The unexpected awarding took place during the thanksgiving celebration he held titled Kuya Daniel's Up Close on November 30, 2009. The event was made for the launching of his new coffee table book Wild, but the treat in the event was the awarding of the platinum record to his album.
Kuya Daniel as he is called after his TV program Good Morning Kuya, has public service as his main line of work. Aside from being UNTV executive and broadcaster, he tends to the congregation that he and his uncle Bro. Eliseo Soriano is leading: the Members of Church of God International or Ang Dating Daan (The Old Path) as locally known. Bro. Soriano is the Presiding Minister of the congregation while Kuya Daniel is Vice-Presiding Minister.
Just like acting and directing, Razon sings only occasionally. His album, Isang Araw Lang, is his second commercial album.
In the history of the Philippines' music industry, only Kuya Daniel's album was able to acquire a Gold Record Award in its first day of release as it sold more than 12, 500 on the same day in the local music scene.
A factor that probably made this historical feat possible is the number of supporters of Kuya Daniel. Friends, colleagues and followers alike believe in his advocacy and his mission to carry out his numerous humanitarian projects that numerous reservations were made even before it was first released.
An example of this is that the direct beneficiaries of the Isang Araw Lang album are the scholars of Free College Education in La Verdad Christian College that Kuya Daniel formally started this year. The free education project is a complete package that ensures the needs of the scholars from free books to free lunch meal. On the other hand, the Movie Writers Welfare Foundation (MWWF) is the beneficiary of the proceeds of the Up Close event.
"Walk your talk," he would often say in his speeches. His known trait of being a doer than a talker perhaps is one of the reasons his supporters are massively growing. This is evident in the continuous service he and Bro. Eli are rendering to the public. Some of these are through the Kamanggagawa Foundation's Free Medical Check-up for poor citizens and his colleagues in the media, Free Bus Ride every morning, the Free MRT Rides for the senior citizens and the first free Transient Homes in the country for the homeless fellows.
By patronizing the produce of his projects like the CD album and his independent film, friends and supporters are confident that in this way they are also able to extend their help in the charity works of Kuya Daniel.
This makes Razon different from other platinum awarded singers: his drive for producing an album is of a greater cause. Juno Henares, owner of UNTV attested to this in her speech along with Jay Sonza and Citro Beltran during the Up Close event. "The best thing in you (Kuya Daniel) is that you share," she said.
Kuya Daniel's programs such as Good Morning Kuya, Kaagapay and Munting Pangarap are continuously being aired in UNTV, and all of these are public-service oriented programs. Prior to the airing of the programs, Kuya Daniel was already doing charity works along with Bro. Eli like feeding programs in depressed areas and free medical services in different parts of the country.
"(Kuya Daniel) teaches our hearts to be compassionate," said Willie Espiritu, Razon's colleague in media industry, during the Up Close event. He cited his personal anecdote that was influenced by Daniel's advocacy in which Espiritu lessen his smoking and found out that he is able to save money and feed numerous hungry mouths even if it was just porridge – a clear influence of Daniel's initiative.
"I will not be able to do anything without God. Let us thank Him. To God be the glory. I don't deserve the good and kind words they said." This is the humble response of Kuya Daniel during the event.
Part of the Up Close event was the thanksgiving celebration of Kuya Daniel as he reached his 26th year in service of the MCGI congregation.
Up Close was held at the Palacio De Manila in M. H. Del Pilar. The platinum record award was certified by Able Music International and Philippine Association of the Record Indusrty (PARI) on the same date of the event. The award was given to Kuya Daniel by Mr. Bernie Refuerzo of Able Music National Sales Manager. Up Close was organized by Bread Society International and Breakthrough and Milestones Productions International, Inc. (Photo credit: Kenji Hasegawa)
---
Mr. Public Service's 26th Celebration of Charity to benefit Kamanggagawa Foundation

Another year, another public service endeavor – such is true to the Kamanggagawa Foundation spirit.  And Filipino public servant Kuya Daniel Razon will celebrate his 26th year of unstinting public service with the birth of yet another noble cause. In the very exclusive Kuya Daniel – Up Close one-night charity event on November 30, 2009,  Mr. Public Service will launch his  new coffee table book entitled Wild: The Wildlife Photography of Daniel S. Razon. The highly-anticipated coffee table book will feature Kuya Daniel's breathtaking photographs of nature at its finest as well as several charitable artists' beautiful works of art.
All proceeds will go to the foundation's roster of public service deeds such as the free clinic, legal assistance, bus rides, MRT rides for senior citizens, the Kamanggagawa Foundation Transient Home and the La Verdad Christian College free college education. To be launched at the Palacio de Manila in Malate, Manila, the Wild coffee table book will help realize Kamanggagawa Foundation's vision of delivering top-notch public service from the heart.
This endeavor is further proof that artistic creativity can be channeled in service to those who need it most – the underprivileged of our nation. For further information about Kuya Daniel's 26th year in service to God and humanity, visit his official website.
---
The Numbers that Count: Kamanggagawa Foundation and UNTV's Impressive Public Service Stats

UNTV 37, like all other TV stations in existence, is deeply concerned with numbers. But trust the Philippines' leading public service station to deviate and set a bar that challenges even the oldest of stations in the broadcasting industry.  By supporting the Kamanggagawa Foundation Inc.'s (KFI) charitable projects, this relatively new TV network pays more attention to the number of people they serve on their shows rather than the number of people who watch their shows.
And supporting KFI works for this network. But most of all, it works for the general public.
On hit morning show Good Morning, Kuya! (GMK) alone, a collection of different Kamanggagawa Foundation public service endeavors simultaneously occur on a daily basis. Raking up remarkable numbers, the 2-year-old show hosted by Kuya Daniel Razon has the following statistics under its sleeve for the months of January to October 2009:
The ever-popular Libreng Sakay Buses (Free Bus Ride Service) sponsored by longest-running religious program on Philippine TV Ang Dating Daan (The Old Path) and UNTV have driven 85,034 commuters to and fro Baclaran and Monumento for free.
51,628 people availed of free medical assistance as well as free medicine in Clinic ni Kuya (Big Brother's Clinic). In remote points located in different provinces, 14,091 people were treated as well.
During the onset of twin typhoons Ketsana and Parma, the Kamanggagawa Foundation Transient Home welcomed 600 individuals for the month of September alone. In a span of 10 months, the KFI Transient House sheltered 2,734 souls.
59,568 of our beloved elderly have acquired free MRT tickets in the program's MRT Libreng Sakay para sa Senior Citizens (MRT Free Ride Service for Senior Citizens).
GMK's Law Center ni Kuya (Big Brother's Law Center) has helped 1,713 individuals with their legal problems and concerns.
A newer addition to the public service deeds of the show, the Aksyon Center ni Kuya (Big Brother's Action Center) has managed to extend  hand to short of 400 people.
More than 29,995 men, women and children have experienced the Medical Missions to far-flung and calamity-struck provinces.
Aside from the daily help imparted by Good Morning, Kuya!, the foundation extends a hand to the public in other ways as well.  Spearheaded by Kuya Daniel Razon and Ang Dating Daan's Bro. Eli Soriano, two of the most active philanthropists of the Kamanggagawa foundation,  the following are admirable projects with equally admirable stats to boot:
More than 400 scholars enjoy free tuition fees, books, uniforms and even meals in the La Verdad Christian Colleges for school year 2009-2010.
110 meek wishes have been granted in the station's Munting Pangarap (Small Wishes) program.
ADD blood donors have managed to give 2,689 bags of blood to the Philippine National Red Cross in as short a time as 10 months.
200 individuals received fast medical service with the station's ambulance conduction service.
223 people with more complicated diseases that entail operations and more expensive medicines were given financial assistance.
With two months to go before the year ends and with the unceasing support of UNTV 37, the projects under KFI's wing have already served more than 250,000 people from all walks of life. By the years to come, the foundation and the station will not cease to serve the public and, if God wills, will more than double this statistic.
---
A Home Away from Twin Tragedies: Transient Home Shelters Terror Typhoons' Victims

Two terrible blows – this is what the Philippines has gone through when Typhoons Ketsana and Parma dropped by without warning, taking hundreds of lives and affecting millions of people. All over the Philippines, millions of families were forced to relocate and stay on higher ground, sharing nights with other unfortunate families in evacuation centers.
To help the calamity-struck, the Kamanggagawa Foundation Transient Home became a temporary home to those who lost theirs during the bitter typhoons. Capable of comfortably housing 100 individuals at a night, the Kamanggagawa Foundation Transient Home serves as a safe solace for the needy.
Since its inception on November 3, 2008, the Kamanggagawa Foundation Transient Home has been known for taking in not just typhoon survivors but the maltreated, the abused, the runaways, and the molested as well. Social workers man the Transient House, ready to take prime care of each visitor.
For the Kamanggagawa Foundation Inc. (KFI), great care does not end with giving the homeless a roof atop their heads – while staying in at the Transient House, individuals enjoy free meals, comfortable beds, medical assistance, legal counseling, and even spiritual guidance. This is the Kamanggagawa Foundation trademark: providing excellent public service without asking for anything in return.
A blogger based in the Philippines named Jones Mancilla recently visited the Transient Home and wrote of the colorful lives each individual who stays there has.
"When I visited the place, what struck me is the overall cleanliness of the place.  The bunk beds are kept clean. Bunk beds in the ground floor are for males, while bunk beds on the upper floor are for females and children.  Once admitted, they can stay in the Transient Home for 3 nights. Before they leave, they clean their bunk beds and prepare it for the next individual or family who are seeking their own pursuit of happiness," recounts Jones in her blog on how impressed she was with the workings of the Kamanggagawa Foundation Transient Home.
With the help of concerned individuals and organizations, the Kamanggagawa Foundation Transient Home will continue to be a safe haven for the victims of any kind of tragedy with God's help and mercy.
---
Think Outside the Fairytale: Kamanggagawa Foundation Inc. grants Small Wishes on Munting Pangarap

Who would have believed that outside a fairytale, wishes could come true? The people who have been witnesses to Kamanggagawa Foundation Inc. (KFI) in action via the Munting Pangarap do – firsthand, on TV and on the world wide web via Youtube.
On the Munting Pangarap (Small Wishes) official Youtube channel, videos showcasing the humble wishes of hopeful Filipinos coming true are posted for everyone to view. Like Aling Norma's wish to have a sewing machine to revive her rag-making business, Manong Protacio's wish to raise hogs, and other meek requests such as Susan's wish to give her heart-attack survivor husband a bed touch the hearts of online viewers.
The Munting Pangarap, a project carried out under the Kamanggagawa Foundation's wing is made possible with generous help from kindhearted individuals. Two of the foundation's well-known and tireless philanthropists are Bro. Eli Soriano of the Ang Dating Daan (The Old Path) and Kuya Daniel Razon of UNTV, who hosts a TV program of the same title on UNTV 37.
Phenomenal preacher Bro. Eli Soriano shares his small wish that God has granted him – from a mere PhP 40.00 capital, he was able to make his business grow and make a decent living.
"My small wish is to be able to live decently, in an honest way that will not come from the corruption of others. All these have sprouted out of a small wish – to be able to live decently not just for myself but for the needs of others," recounts the Internationally-acclaimed preacher.
The Kamanggagawa (Co-worker) Foundation Inc., share Bro. Eli's desire to help the needy. And one of its core missions is to help others via empowering them; to help them believe that with a little boost from others, they can continually prosper by helping themselves. Through the many projects of the Kamanggagawa Foundation, people witness real-life wishes come to life – beginning with just a small wish.
"A little wish may grow, depending on your persistence, care, hard work and determination. All big things come from little ones. This is the way of all good things." – Bro. Eli Soriano
---
Kamanggagawa Foundation: Redefining the Filipino Notion of Public Service

In as little a time span of five years, the Kamanggagawa Foundation Inc. (KFI) has completely redefined public service in the Philippines. Gone are the days when public service equated to mere photo ops of public officials having roads constructed and having waiting sheds named after them. Today Filipinos are seeing what real service to the country is like through the workings of Kamanggagawa Foundation Inc.
Kamanggagawa (Co-worker) Foundation Inc. is home to an impressive roster of public service deeds and is proud to play part in the revolutionizing of Philippine public service. Free medical assistance and legal aid, orphanages and homes for the aged, and even job-seeking opportunities – these are the trademark services that KFI is known for. Through the support of concerned people and groups, KFI's rendering of service to the less-fortunate is made possible.
Being a leader in revolutionary humanitarian services, KFI has ventured on the very first free transient home in the Philippines, located in PHILAM, Quezon City. Opening its doors to the homeless and the unfortunate, the Kamanggagawa Foundation Transient House doesn't stop at providing shelter – those who would stay in for the night will be given a healthy dinner, medical assistance, clothes and their own comfortable beds for the night. Before they leave, they will be given a hearty breakfast and even a Bible for them to read and be enlightened.
Today, one of the most groundbreaking projects in Philippine history is about to be made into reality – the first ever free college in Manila. Currently under-construction, the La Verdad Christian School will offer nursing and mass communication degrees to deserving students. From basic tuition fee exemption to free books, uniforms, and even meals, the Kamanggagawa Foundation Inc. will help make young dreams come true.
With the help of God Almighty and the support of selfless individuals and organizations, the Kamanggagawa Foundation Inc. will continue to revolutionize public service for the betterment of humanity.
---
Ways to help
You may help either by donating or volunteering your time with our cause.
To donate and volunteer, you may use contact us, by clicking this link
/*?>
*/?>
Latest @ KFI
get_footer(); ?>